A Business Analyst plays a critical role in business growth and development. The task of analyzing business data and providing apt solutions to business process issues lies heavily upon the Business Analyst.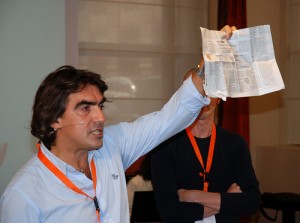 To be able to fully and effectively undertake this huge responsibility, proper training and above-average knowledge of business management are crucial factors that a Business Analyst needs to have.
Therefore, before you walk down this career path, you need to undergo trainings and take courses related to business management and analysis. If you have a tight schedule, there are online courses for Business Analyst that you can take in lieu of campus-based courses.
Online Courses for Business Analyst
Several schools in the United States offer courses for Business Analysts and most of these are likewise offered online. Universities in the United States that offer online courses for Business Analyst include the University of California-Irvine.
The school's University Extension division offers a certificate program for Business Analyst.
The courses here are ideal for individuals who are just about to enter the field of business management and analysis as well as professionals who work in a supervisory capacity handling subordinates directly involved in business analysis.
You do not necessarily have to take all of the courses included in the certificate program. You can take just one or two courses as you see fit.
However, if you wish to earn you certificate of completion, you will then have to take the required courses plus an elective course worth at least 2.5 credits.
UC-Irvine Business Analyst Certificate Program: Individual Courses
To be able to earn your certificate of completion, you need to fulfill the following course requirements: Fundamentals of Business Analysis, Business Analyst Planning and Project Management, Requirements Elicitation and Analysis, Requirements Management and Communication, and Testing, Verification and Validation.
The courses will help you gain a better understanding of what business analysis entails and the roles that you have to play as a Business Analyst.
Electives covered in the program are the following: Introduction to Unified Modeling Language; Management, Leadership and Team Building in the Project Environment; Problem Solving and Decision Making; and Managing Business Process Improvement Projects.
As a Business Analyst, it is your duty to understand, troubleshoot and resolve client issues regarding your business through improvements on processes, data systems and to a certain extent, changes in the company's organization.
The Business Analyst acts as a go-between for the company's clients, partners and the work force behind the company that ensures business issues are properly addressed in a timely manner.