If you have completed your EMT Basic training and have been working in the field for quite awhile already, and now you feel that you are ready to go up the next level; you can enroll in EMT Intermediate courses so you can provide more advanced emergency medical care to patients.
Now if you are working full-time as an EMT, it is quite understandable that you may not have the time to attend actual classes. This is where online courses for EMT Intermediate will come in handy.
How are Online Courses for EMT Intermediate Taken?
Depending on the course provider, the online course may be taken completely online via live lectures or these may also be taken via a combination of teaching methods: online live lectures, pre-taped lessons accessed online or through CD's and audio lectures, among others.
An EMT Intermediate Course may be completed within nine months, from the date of enrollment, or as determined by the course provider.
Since this is an advanced type of course and training, you will need to fulfill specific requirements in order to be eligible for the intermediate course.
The most important requirement of courses is that you should be EMT Basic certified. Age requirement is normally 18 years old and above, and you should likewise have a high school or GED diploma.
If you have completed a college-level course on Human Anatomy and Physiology with a grade no lower than "C", you will no longer be required to complete an Anatomy and Physiology 101 course.
Skills Training
After you have completed your online course, you will be required to undergo a strict skills training program. Simulated emergency situations will be given wherein you will need to demonstrate your ability and readiness to perform your duties as an EMT Intermediate practitioner.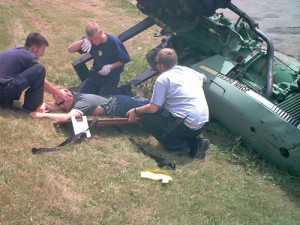 Again depending on the course provider, the skills training may take four up to five days; and will be conducted at the course provider's training facility. In some cases, the EMT school has several training facilities so you may easily find one that is nearest you.
Generally, courses fees already cover the full course and materials plus the intensive training and board and lodging. However, just to be sure, check with your EMT school about what their course fee covers so you can allocate the right budget for your EMT Intermediate course and training.
Finally, it is important that you go to the skills training based on the schedule that you have selected. Non-appearance may not only require you to pay a penalty fee but will also require you to pay an additional fee to undergo the required skills training.