Do you wish to work as an assistant in an animal care facility specifically reptile care?
Perhaps you are thinking about getting a reptile for a pet and you don't know a thing about caring for reptiles; or maybe you're really just interested in reptile care.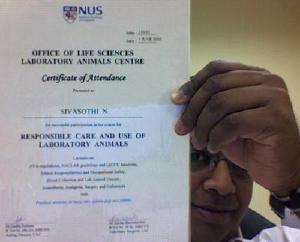 Whatever the reason, there are reptile care tips as well as online courses for reptile care that you can fully benefit from.
Online Courses for Reptile Care
Truth be told, there are not a lot of schools on the internet that offer online courses for reptile care.
However, the ones that are online should be enough to give you information about caring for reptiles as well as equip you with the right skills necessary to keep the reptiles under your care, happy and well, alive.
The courses that you can find online for reptile care are generally divided into 6 modules, each one thoroughly discussing specific areas of importance for reptile care.
The following are the areas of study covered by reptile care online courses:
– Intro to Reptiles: Here you will be given a background on reptiles and their environment plus you will also get to know some of the most common types of reptiles around the world.
– Biology and Anatomy of Reptiles: In this course you will be given a detailed look into the body of a reptile plus how they adapt to their environment and lifestyle.
– Habitat, Life Cycles and Behavior: Here, you will get to delve deeper into this animal's biology, their dwelling places, life cycle and life span; and the way they behave.
– Keeping Reptiles: Housing, Feeding and Caring: This is perhaps one of the most important courses that you will ever take when it comes to reptile care.
In this course, you will learn all about reptiles in captivity, from their behavior to their needs including the food that they need and regular care that they require to keep them healthy.
– Reptile Health, Welfare and First Aid: Here, you will be taught about some of the more common issues that affect reptile health and their corresponding first-aid application.
– Ready for a Reptile: Finally, in this course, you will learn all about choosing the right reptile for your pet taking into consideration specific laws and regulations mandated by states or specific countries to ensure that you will not be breaking any laws with your purchase of a pet reptile.
You may also want to check websites or blogs that provide reptile care tips particularly from experienced reptile owners so you can get more information about taking care of reptiles.