Writing is an art in and of itself. While that is so, for a person to really master this, it is highly recommended that the individual join comprehensive learning programs that will aid that person in understanding this literary art better. Those who are interested in learning how to be a pro in this art, or are looking for more ways to further enhance their skills can do so with the variety of choices for online courses for writers.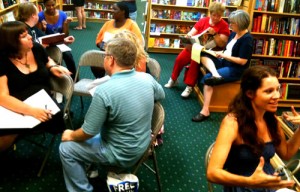 Learning how to write doesn't mean breaking the bank. While there are a lot of paid services for online courses for writers, there are also options on free courses.
However, it must be noted that most of the free offers do not often carry the option of earning a degree. While that is so, these programs still cater to their offers. Often, a person who would be enrolling in these types of educational programs on the Internet can readily see the importance of these things – whether or not they would be granted with educational credits. Most students end up being published. And that – in itself – is quite a good incentive for enrolling in these types of educational programs.
Here are some of the choices on the leading sites that offer virtual learning programs:
This educational institute opens its doors to people who would like to enroll in their offers for undergraduate or graduate courses. These are accessed through the institution's OpenCourseWare or OCW. Topics include learning how to read and craft essays, fiction, poems, short stories and other literary forms.
Typically, these virtual classes are designed to be a lot of fun and are highly informative. Students get to learn important things on writing through a virtual form of teaching which involves videos, reading lists, and virtual lectures. Registration for these courses is often not a strict requirement.
Another university that is worth looking at is the University of Utah. This institution accepts self-learners who are keenly interested in learning the art of how to write well.
At present, the school offers a single course for this literary art. Aptly named as "Introduction to Creative Writing," this program focuses on the nuts and bolts of creative writing. To join the class, interested parties are required to go through a free registration process.
Another institution which focuses on the art of writing is the Purdue University. The courses offered at this school include the Professional and Technical Writing program, Pattern and Variation in Poetry course, and Proofreading Your Writing course.
One of the benefits of joining any of the programs offered by this school is that the school allows anyone (from any part of the globe) to join. Yes, this university reaches out to students worldwide. They welcome these people – regardless of status or location. To accommodate this, the university does not require students to undergo registration procedures.
Like other reputable virtual institutions, the school also puts much importance in offering individualized assistance to their students. In effect, their students learn more.
Instead of having to go through the difficulty of learning everything on one's own, these online courses for writers help individuals learn the art in a better way by providing engaging and comprehensive teaching materials.