Math, that subject that is often the bane of a student's existence, need not be an obstacle to any child's otherwise joyful experience in school.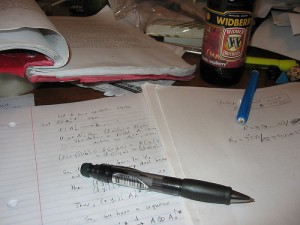 True, not all students find the subject as hard or as challenging but a good percentage of children who go to school find Math rather difficult.
Parents have various options to help their kids breeze through Math. Some will hire private tutors to help kids comprehend their Math lessons and apply the various operations or formulas to solve Mathematical problems.
Others turn to the internet for help.
Online Math Courses for Middle School Students
Students these days are actually luckier as compared to students of old because modern-day students have the modern-day convenience of internet technology.
What this means is that students get a world of information right at their fingertips.
Moreover, students also get to take courses online – for any level, from Elementary to High School; as well as courses for any undergraduate, graduate, Master's and Doctorate degree.
Now, for help with your child's Math problem, there are quite a lot of online schools that provide online Math courses for Middle School students.
You should check your child's school first if they offer Math courses online either for credit or as a tutorial. If they don't, ask for recommendations.
Your last option is to check the websites universities you ware familiar with to see if they provide online courses in Math, specifically for your Middle School child.
Applying the Math Challenge for Grades 6-8
The University of Missouri's MU High School offers an online course on Applying the Math Challenge for Grades 6-8.
This course presents Math as an engaging and highly interesting subject through creative lessons that likewise presents Mathematical equations, formulas and operations in the simplest way possible.
This enables students to easily grasp the concepts behind Math equations and formulas which in turn will enable them to solve Math problems without trouble.
Students are taught about how Math is applied in practical life through the lessons covered in this course.
There are eight lessons in all, starting with Problem Solving and ending with Probability and Statistics.
Other lessons covered are: Algebra; Decimals; Fractions; Perimeters, Circumference, and Area; Surface Area and Volume; and Percents, Ratio, and Proportions.
Course work includes reading assignments and study questions. The study questions will not be included in the final grade. These are instead questions that the student should answer according to his or her knowledge.
This will enable students to check how much they have learned so far.