Taking online Spanish courses for kids is one of the best ways to introduce them to a new language. Spanish is rapidly becoming one of the most spoken languages in the world. Learning it can give your child an advantage later in life.
Overview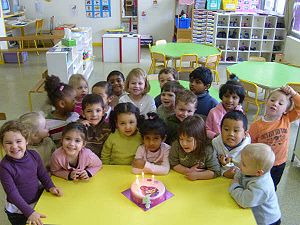 These programs can be accessed on computers with Internet access. Some of these websites are free, but others are pay sites. Some of them allow you to use a few of the teaching materials free. This gives you a chance to determine if it is worth signing up for.
Contents of Web Courses
Since these websites are designed for kids, they tend to be more colorful and engaging than those for adult students. The interfaces are clean and easy to navigate. Many websites use videos to instruct kids. Repetition techniques are typically used to make them more interesting.
Some interactive websites use logical-mathematical, oral and musical elements to keep kids interested. Aside from online lessons, websites may also sell DVDs, CDs and other packages. Courses are often standalone, but some provide tutors. These courses are set up in different ways. All of them however, will teach children proper reading skills and pronunciation.
Children will learn basic Spanish through games, songs and other interesting activities.
These programs also immerse children in culture and history. These will include information about countries where the language is spoken.
Other Features of Internet Courses
Some programs are designed for children who already know how to read the language. These lessons use Spanish as the main language and English is secondary. This set up allows children to refer to English only if they cannot understand some parts. These programs will also teach about grammar, pronouns, adjectives, verbs and parts of a sentence. Tests are also available for those who have advanced far enough.
Internet lessons are divided into chapters. It may start with common Spanish phrases, colors, numbers, family members and survival. There are also lessons which consist of narratives, spelling activities and many others.
Considerations
Spend some time with the child when they first visit the site. Help them get familiar with the layout and where to start. This shouldn't be a problem if the child already knows how to use the Internet.
Online Spanish courses for kids are aimed at specific age brackets, so you can find one suitable for the kid's age. The best thing about these courses is you can supervise the child as they study.