College English is quite different from elementary or high school English in that the compositions and essays are more formal in form, the content more reflective and deeper.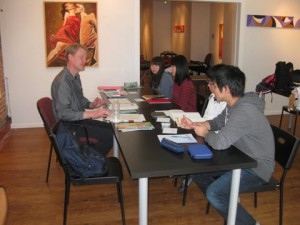 Before you enter college, you may want to prepare yourself for the heavier course load and faster pace of college life by enrolling in a few preparatory online courses.
To prepare you for college-level English, you should look into enrolling in one or two online courses for college English just so you will get an idea of what type of writing is acceptable in college.
Better still, you may wish to take an online English course for college credit. This way, you not only learned the essentials of college English but you also earned semester credits that you can transfer to your college requirements.
Online English Course Options
You will find that the internet is not lacking in online courses for college English.
However, before you sign-up for any course you have to make sure of two things: one, make sure that the online school is accredited by your state; two, make sure that the course credit can be transferred to your campus credits.
There are campus universities that offer online courses and there are also online schools that solely operate on the internet; meaning, they do not have a campus that you can go to in case you wish to study offline.
Now, a lot of online schools operate legitimately on the internet which basically translates to you being able to take your courses online and have these credited towards your school records.
CALCampus Online Courses
CALCampus Distance Learning is a fully online school based in the United States. It has been providing quality education to students via online learning since 1986.
The school covers academic courses for Mathematics, Science, Business, Foreign Language, Social Sciences, and English.
For online courses for college English, your options are the following: College Basic English and English Composition I.
Both courses are worth three semester credits each.
College Basic English is a refresher course that can help students brush up on the grammar and punctuation, sentence compositions, paragraph writing plus tips on basic research.
This course will equip students with the skills to come up with their English compositions at a level that is acceptable in college.
College English Composition I meanwhile focuses on college rhetorical writing covering narrations, comparisons and contrasts, as well as cause and effect. This is also considered in college Freshman English I.