You're getting married and you want to plan your own wedding; or a loved one is tying the knot soon and you were asked to take care of the planning or perhaps you want to make a career out of this by becoming a wedding consultant or planner.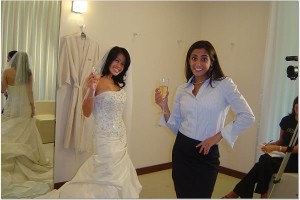 Whatever the case, you'd do well to enroll in one or two wedding and event planning courses just so you will get a good picture of how it is to plan a wedding, from day one after the proposal up to the wedding day itself.
If your everyday schedule makes it impossible for you to attend live classes, there are online courses for Wedding Consultant and Event Planner that you can look into.
Online courses will not drastically change your regular schedule so you're still able to perform your duties at work and at home while studying to become a professional Wedding Consultant.
Online Courses for Wedding Consultant
US Career Institute provides distance learning courses for individuals who wish to learn a new skill so they can start on a new career path.
The Institute has a Wedding and Event Planner course which can get you ready for a career as a Wedding Consultant once you've finished your courses.
You have two options regarding their Distance Learning program. You can either take your courses via post or through their online learning site.
Online learning enables you to join discussions and interact with other students taking the same courses as yourself plus you get inputs from your instructor much faster.
For learning via post, the course materials are actually sent to you via post mail and you can start whenever you want.
While this course format is not entirely online, you do get help from the Institute through online communications plus you can also check their website from time to time regarding your questions by checking the Common Questions page.
You can also contact the Institute through their online Contact Us form.
Either way, you get the full support of the Institute's able staff and faculty to ensure that you not only complete your courses but that you learn everything there is to know about being a Wedding Consultant so you can start on your career down the right path.
What the Courses Cover
This particular online course for Wedding Consultant consists of five packs which contain different lessons. The first pack gives you the basics of wedding planning.
Pack No. 2 provides you with lessons on planning an engagement party and wedding-related events while Pack No. 3 gives you lessons on the nitty-gritty details of a wedding: wedding photos, receptions and the wedding ceremony.
Pack No. 4 includes lesson on how to make the reception and the ceremony work together, how to help the couple plan their honeymoon plus the all-important detail of drawing your contract for the wedding planning.
Finally, Pack No. 5 helps you work on your numbers. Included here are the couple's ceremony and reception budgets and monitoring expenses.