Statistics show that there is a shortage of speech pathologists around the world and for this reason, people who are in this profession get a rather good annual income – averaging around $ 60,000 for a starting salary alone.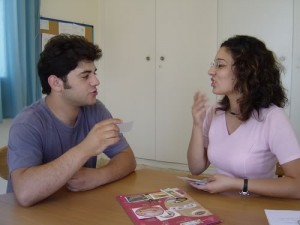 If you have a Bachelor's Degree not in any way related to communication disorders and you want to pursue your studies further to specialize in speech pathology, what you need to do is take leveling courses for speech pathology.
The leveling courses are pre-requisites for a degree in speech pathology and you must complete them first before you can even apply for courses towards a Speech Pathology degree.
Online Learning for Speech Pathology
Depending on which school you plan to pursue your studies for speech pathology, leveling courses may be between 10 and 13 courses in all.
There are leveling courses that may require you to take other leveling courses first before you can move up the next level and there are also those that are offered as additional options – not necessarily a pre-req. anymore for speech pathology but something that you may find interesting and helpful nonetheless.
If you have decided to take your degree on speech pathology via online schools, you should also check if the school you've picked out has online leveling courses for speech pathology.
This way, you can get the exact pre-req. courses that will make you eligible for their speech pathology degree plus complete all your courses via the internet.
Online Leveling Courses for Speech Pathology
Some of the online leveling courses for speech pathology require laboratory work. You will have to check with the online school how their lab requirements are offered.
Some still offer lab work online with the guidance of an instructor while others may require you to attend on-campus lab classes.
Among the leveling courses that require lab work are Clinical Phonetics and Phonology; and Speech and Hearing Sciences. The intro and lecture classes are worth about three credits per course while lab works are about one credit each.
There are likewise courses that are divided into two categories; one that focuses on pediatric care and one that pays attention to adult care.
One such course is Clinical Processes. Some schools will require you to take Clinical Processes: Pediatric; and Clinical Processes: Adult.
Other leveling courses are Language Development, Speech Sound Development and Disorders, Aural Rehabilitation, Language Disorders, Neurological Bases of Communication Disorders, Audiometry and Hearing Science, and Educational Audiology.
Clinical Processes: Methods and Applications is an example of an optional leveling course offered by some schools online.