There are tons of online courses that students of various levels can fully benefit from. Professionals and the unemployed can also benefit from some of the courses or tutorials offered online.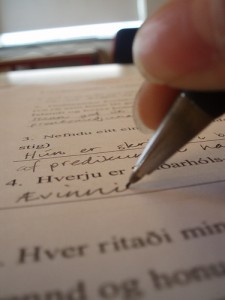 Now, if you are a high school student, there are hundreds of online courses that you can enroll in. Some of these are free, others you need to pay for.
There are courses such as online writing courses for high school students that can help you better understand your campus courses which then act as supplementary lessons; and there are also those that you can take to be credited towards your school course requirements.
Lastly, there are online courses that prepare you for the next school year or your entry into another grade level – college, even.
Online Writing Courses for High School Students
For online writing courses designed for high school students, there are a number of them that you can choose from.
The courses may focus on specific areas such as writing techniques for essays, guidelines for formal and informal writing as well as writing poetry and fiction.
All of these may help high school students with their essay assignments and writing projects.
There is one other type of course that can help high school students but this time, to prepare them for their entry into college.
College-level writing is very much different from high school writing which is why it's important that HS students learn as much about this before entering college.
The MIT Open Course Ware has online writing courses for high school students that can prepare them for college-level writing in English.
What the Course Entails
The Essay Writing Course provides high school students with notes and lectures that take on college-level essay writing.
Topics include the following: Writing on Contemporary Issues, Writing and Experience, Science Writing and New Media, and Writing About Literature.
Writing assignments as well as a reading list for each topic are included to help students with their course work. The course materials can be downloaded from the website or can be view directly online.
The course covers analytical reading as well as expository writing. Writing tips are likewise provided.
Another writing course that high school students, particularly juniors and seniors in high school, can consider is the university's Technical Writing course.
In this course, students will again be given notes and lectures on technical communication, and Science and Engineering Writing, among others.
Finally, students can also explore short story writing as well as writing for the web, both of which are likewise provided by MIT's Open Course Ware program.