It's not uncommon for fresh high school graduates to feel just a bit jittery at the mere thought of entering college. It's a whole different world where incoming freshmen start on a clean slate.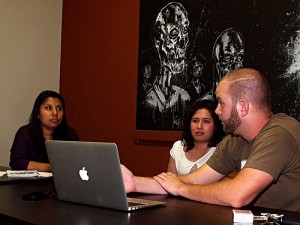 To help with the jitters, there are ways that you can consider in order to make yourself as prepared as possible for your first day in your new school.
You may consider taking summer classes at your new university just to get a feel of your future campus life or you can take basic online courses for college so you'll get an idea of the differences between high school courses and college courses.
Basic Online Courses for College
Basic online courses for college are generally introductory courses for core subjects that are required for your degree. If you're thinking that these are additional expenses that you cannot afford, there are free online courses that are introductory lessons for college subjects.
Since your reason for taking online courses is more for personal preparation than college credit, you can just take the free online courses instead of enrolling in courses for credit.
This way, you can have a closer look at college courses even before your first day in school plus you won't need to spend anything to get access for these courses.
The best part is that most free courses are open throughout the year so you can sign-up for other free courses even when in you are in school already and taking your actual college courses. In this regard, the online courses for free serve as your supplemental classes.
Open Learning Initiative
Carnegie Mellon University in Pittsburgh has an online course site that provides free basic online courses for college via the Open Learning Initiative.
The Open and Free Courses are non-credit, self-study courses which means that you will not have access to the university's instructors.
There are introductory lessons for Modern Biology, Biochemistry, Probability and Statistics, Statistical Reasoning, Chemistry, French I and II, and Anatomy and Physiology.
You will be given materials for study such as lecture notes that you can read right on the course page plus diagrams and images for visual props to help you with the lessons.
After each lesson included in the course, there is a quiz that you can take to test how much you learned from the course.
The quiz is not graded.
Test and Configure
Prior to beginning your course, you are advised to check your system compatibility with the software program required for viewing and accessing the courses.
There is a Test and Configure option on the website that will walk you through the process of configuring your PC to make it compatible with the software or other applications used for the free courses.