The beauty industry is definitely in bloom. A lot of people are becoming highly concerned about their looks. That's why the business of cosmetology is becoming more and more in demand.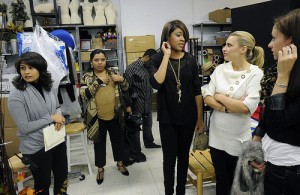 If you want to get into this lucrative business, what you have got to do is to take the right courses that will make you knowledgeable and skilled enough for this field. If you want to become a cosmetology instructor and give way to many dreams, you need a strong educational background. There are online courses for cosmetology instructors, which you can take in order to give yourself the advantage you deserve to be able to compete in the highly competitive job market.
Learn Online
Usually, cosmetology instructors start as a beautician or cosmetologist. Taking online courses lead them to a higher level in their career, making them an instructor instead of just doing the dirty work.
To become a cosmetology instructor, you need to obtain a license, which will acknowledge you as a certified professional. But before that, you also need to have at least two years of experience as a beautician. Some states may forego the required on-the-job experience if you have completed 1,000 hours of training in a cosmetology school. Other than that, you also need to learn the skills required to teach cosmetology. Such teachings must be in a classroom environment. It can also be a virtual classroom environment.
There are many different skills that you must learn to become an effective cosmetology instructor. That includes nail technology, aesthetics, and hairstyling. Although you will need to have practical experience to complete the training, there are parts or sections of the course program that you can take in an online fashion.
What a Cosmetology Instructor Must Be
There are established skills and abilities that a cosmetology instructor must obtain to become reliable in the job post. That includes:
* Being updated in the latest trends and techniques in various cosmetology courses.
* Being knowledgeable in the business aspect of the field by enrolling in a few business courses.
* Being knowledgeable in bookkeeping and other administering tasks.
* Being able to communicate effectively not just with students but with fellow instructors as well.
Although not all of those skills can be learned in school, online courses will help open your perspective with regards to attaining such characteristics. For the most part, being a cosmetology instructor means you will never stop learning yourself. You need to empower yourself with the updates in the industry to become competent and efficient in your job post.
Related articles