Respiratory Therapists are professionals in health care with a special focus on respiratory disorders. Working in hospitals, they work hand in hand with Pulmonologists and they are trained for providing assistance in critical care patients suffering from lung diseases.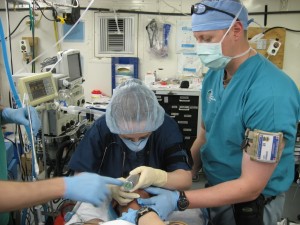 If you are working towards your certification as a Respiratory Therapist, it is important that you take all the necessary courses in order to be eligible to take certification exams specifically the National Board for Respiratory Care certification exam.
For students who haven't yet started on their Respiratory Therapy program for lack of time, you can take online courses for Respiratory Therapists.
You can complete the program via e-learning affording you the flexibility of working around your own schedule.
There are online programs that you can complete in under three years.
Online Courses for Respiratory Therapist
Independence University specializes in distance and online learning, providing students with an easier alternative to on-campus learning. The university also has several campuses spread out across the United States.
The university offers an Associate of Science in Respiratory Therapy degree through their online education portal. The program can be completed within twenty-six months only which means that you can work on your certification as a Respiratory Therapist in just two years and two months.
The courses are fully available on the internet and can be accessed anywhere at any time. Students are required to complete a total of forty-seven courses worth one hundred thirteen credits in all.
Courses Covered
There are general courses that you need to take as well as courses that fully focus on respiratory issues.
Required courses include the following: Anatomy and Physiology I, Cardiopulmonary and Renal Anatomy and Physiology, Respiratory Therapy Cardiopulmonary Pharmacology I and II, Patient Assessment I and II, and Introduction to Respiratory Therapy-Infection Control.
You will also need to complete English Composition, Communication Arts, American Civilization, College Algebra, Psychology of Motivation and Psychology.
You shouldn't also miss out on Respiratory Therapy Medical Terminology as this will greatly help you with communicating to your patients various medical terms related to respiratory ailments and lung diseases.
Lastly, to complete your degree, you will need to undertake clinicals. You will be given the chance to choose your own clinical instructor as well as a sponsoring facility for your clinicals.
Financial Aid
Tuition covers all study materials. Also, tuition aid is available for students who may have a limited budget. Check with the school's Financial Aid Department to check if you are eligible for their Financial Aid program.
Related articles