It's a requirement that licensed teacher take Continuing Education courses in order to keep their teaching license active. The total number of units required for Continuing Education may vary depending on state regulations.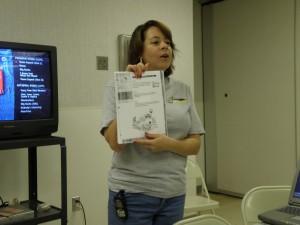 Now, if you're still lacking a few units to complete your CEU requirements, your best option may be to take your last several units online. This will allow you to work and study at the same time so you won't have to give up one for the other.
Online Courses for Teachers Needing CEUs
As you surf the internet, you might be surprised at the number of great CE courses for teachers there are online. You might even find yourself taking more courses than you planned because the topics are very interesting, highly relevant to the changing times and very educational as well.
ABQ Courses
Additional Basic Qualification courses provide teachers with more information about the disciplines in their programs within a specific division, i.e. primary. These courses further enhance teachers' skills in the development, delivery and analysis of their curricula.
There are ABQ Primary and ABQ Junior courses that you can take online. ABQ Primary focuses on teaching children aged between 4 and 8 years old; while ABQ Junior focuses on teaching kids from the 4th up to the 6th grade.
ABQ Intermediate meanwhile provides more specific courses, to give a more detailed coursework on various subjects; i.e. English, Computer, French, History, Mathematics and General Science.
Last among ABQ courses is ABQ Senior. This CE course also delves deeper into specific subjects such as Biology, Chemistry, Physics, Social Sciences, Geography, Law and Mathematics.
Classroom Management and Behavior Courses
An important aspect of effective teaching is having full control of the classroom, whether you have two or twenty students per class.
It is also important to recognize the dominant behaviors or traits of each student so teachers can assess whether or not a particular student needs more help in certain subjects or help in interacting with classmates and teachers as well.
Courses that discuss these topics include: Advanced Classroom Management, Understanding Attention Deficit Disorder, Intervention Strategies for Children with Autism and Asperger's Disorder, and Managing Disruptive Behavior.
Children and Substance Abuse
Teachers will gain a better understanding of addictive substances such as drugs and alcohol and how the classroom may be affected by these.
Psychological effects of substance abuse on the children, either through their own drug or alcohol abuse; or through loved ones whom they know are dependent on drugs or alcohol or both are likewise discussed in these courses.
Child Abuse
A course on child abuse and neglect will give teachers the skills to recognize abused and neglected children in their classrooms.
More importantly, the course will equip teachers with the skills to effectively reach out to abused children, help them emotionally while also addressing their special needs in terms of their education.
Related articles