If you would like to finally concentrate on your writing hobby to make a career out of it or you want to learn how to write fiction since you've already been writing non-fiction, you should think about enrolling in courses for this purpose.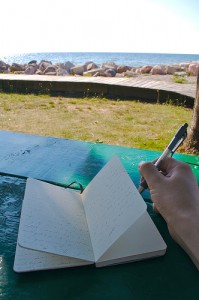 While there are articles and tips that you can read online and off, nothing beats getting into the heart of the matter through an in-depth take on the details that make a good fiction novel or short story.
The easiest way to find excellent Writing courses is through your online search engine. You will be given information on both campus-based and online courses that will suit your purpose.
Online Writing Courses for Adults
Online courses are perfect for busy professionals as these enable them to study at their own pace.
Online Writing courses for adults are even better as these enable them to write freely without the embarrassment of being critiqued in front of a whole class.
Ideal for beginner writers who are not yet accustomed to receiving critiques in front of other people and face-to-face with your mentor-cum-critic, online Writing courses provide you with the convenience of taking classes from home plus the anonymity you need in order to get your creative juices flowing.
Oftentimes, the thought of being critiqued together with other students plus the fear of not delivering as well as your other classmates, is enough to give you writer's block.
When you do not have the fear of being judged to your face, you have the tendency to think more freely thereby enabling you to write more freely and effectively.
Certificate in Creative Writing
New York University, through their School of Continuing and Professional Studies, has a Certificate Program in Creative Writing which provide adults with lessons in fiction and non-fiction writing.
The enrollee has the option to take courses based on what he wants to focus on, whether fiction or non-fiction. In order to complete the certificate program, the student has to take four required courses in fiction or non-fiction and one Elective course.
This means that you have to successfully complete five courses in order to graduate from the certificate program.
For Fiction, you have about 12 course options including Fiction Writing I and II, Fiction Tutorial, Shorty Story Writing, Advanced Short Story Writing, Building a Short Story Collection and Novel Writing I: Beginning Novel Writing.
For Non-Fiction, you have five course options: Creative Nonfiction Writing, Nonfiction Tutorial, Personal Essay Writing, Writing Your Memoir and Essentials of Writing Essays.
Finally, for Electives, you have the following options: Writing Great Characters, Writing for Children, Beating Writer's Block, Romance Novel Writing, Writing Comics and Graphic Novels and Poetry Writing I.
Course costs range from USD 240 up to USD 580 per course.