Cosmetology courses provide individuals with a good fallback in the event that one suddenly finds one's self out of a job or in the market for a second job.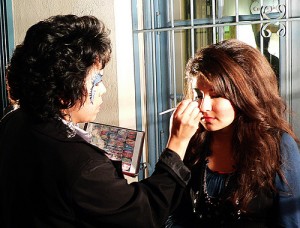 They are also excellent courses for those who actually want to start a career in the hair and make-up trade.
If you would like to try your hand first at "amateur" cosmetology where you don't charge for your services and just practice on yourself, family, friends and even neighbors; you can get helpful tips on hair and make-up techniques via free online courses for cosmetology.
Free Online Courses for Cosmetology
Sometimes, you will come across blogs that provide cosmetology tips and these can provide you with basic information on how to do one specific thing like how to fix bridal hair or how to apply day make-up.
However, if you truly want to know more than just tips on how to work on specific areas, you should check out cosmetology courses offered by actual schools.
Don't worry about tuition because there are free online courses for cosmetology that are offered by vocational or technical schools.
The free courses are usually a series of courses where you can learn everything there is to know about cosmetology, from applying make-up to choosing hair color, applying nail polish for manicure and pedicure, facials and everything in between.
The University of North Texas: Texas Education Agency CTE
The University of North Texas, in partnership with Texas Education Agency has an onlineTEA Career and Technical Education portal that provides a variety of career-focused online courses.
Included in their list of courses are free online courses for cosmetology.
What is the Course Format?
Courses are generally presented in two ways: through a PowerPoint presentation and through text format. The PowerPoint is a short presentation of what you can learn from the course.
Sometimes the presentation also includes photos of specific steps included in the lessons so you can get a visual of what you're supposed to do.
The text format provides you with notes on what you're supposed to be learning from the course that you are taking and these may sometimes include lectures to give you more information about what you're expected to achieve by the end of each course.
Course Options
Courses that you can enjoy for free through the University of North Texas and Texas Education Agency CTE portal are the following: Chemical Hair Relaxer Retouch, Theory of the Law of Color, Chemical Peels, Levels and Tones of Hair Color, Color Selection, Special Effect Make-Up Application, Basic Manicure Procedure and Sponging Techniques.
You can also learn about Micro-Braiding, Thermal Irons, Tint Retouch, Types of Hair Color, Hair Fusion, Nail Art Techniques, Facial and Body Waxing, and Basic Pedicure Procedure.
If you wish to open your own salon, there is also a free course that discusses this: Salon Entrepreneurism.
Related articles