Online courses for nursing assistants make it possible for students to get certification before they start practicing. Unlike other programs, there is no need for a degree.
Coursework Overview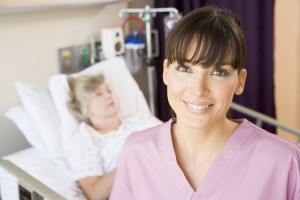 Nursing assistant programs start by explaining medical terminology, followed by the role of a nursing aide or health care aide. There are also topics on being a successful health care aide and various concepts.
When you study a module on medical terms, there will be a glossary of medical terms, special senses, the integumentary system and the nervous system. You also learn the vocabulary used for the reproductive, urinary, endocrine, digestive and respiratory systems. You also learn about immune, lymphatic, blood, cardiovascular, muscular and skeletal systems.
Additional Subjects
Other subjects are about infection and infection control, developing cultural sensitivity and providing comfort. Other related topics are about rest, pain, and meeting basic human needs. You also learn about documentation, reporting and observation.
Aspiring nursing aides also study about classification of disease, body organization, ethical and legal issues affecting the health care aide. There are also subjects on consumer rights, their duties and community health care.
Subjects in Detail
Students also take up subjects on discharge, transfer, admission and monitoring vital signs. Related subjects are about positioning patients and keeping them safe. Other concepts that you have to study are career growth, employment opportunities, response to basic emergencies, body systems, common disorders, and related care procedures.
You also learn different approaches to caring for patients. Among them are approaches to patient care (integrative, complementary, alternative) and subacute care. There are also courses on home care duties, trends in health care, care of the elderly and chronically ill.
Required Skills and Knowledge
If you are going to take one of these programs, it is important that you learn about dying, death, caring for the emotionally stressed patients or surgical patients. There are also subjects on assisting with physical examination and warm and cold applications. Other areas of study are on fluid balance, nutrition principles, general comfort, patient bathing, and bed making. Other subjects have to be taken up as well.
Other Information
Colleges with nursing assistants require students to finish a specific number of hours of study. The benefit of studying online is you can learn without losing out clinical training.
Online courses for nursing assistants have to focus to complete some of the subjects in live classes. They must also complete a specific number of clinical hours in training.